Italy By Flight Tour
Tour Code : HIT102
Duration : 5 Nights / 6 Days
Destination Covered : Rome, Pisa, Florence, Venice, Milan, History, Vatican City
Tour Activities : Forts and Palaces
* Mentioned prices may vary depending upon date of travel, hotel availability, surge pricing and seasonal rush.
Rome, Pisa and Florence Tour Overview
Rome City Tour with local guide, Colosseum with entrance, Time Elevator with entrance, view Trevi Fountains, Roman Forum and much more
Pisa view the Leaning Tower (from outside) & The Duomo
Florence City Tour with local guide, Statue of David at Piazza Michelangelo, Ponte Vecchio, view the Piazza Della Signoria, Basilica of Santa Croce and The Duomo
Venice Boat ride to St. Marks Square, Gondola Ride with entrance & Murano Glass Showroom
Milan City Tour Duomo di Milano, Scala Opera House, Victor Emmanuel Gallery
Vatican Visit St Peters Basilica & Square
Capri excursion to Mt. Solaro via Cable Car
Lake Garda Free timePersonal Expenses
Any other services which are not mentioned above.17-1022-12
Rome, Pisa and Florence Tour Itinerary
Arrive at Rome Airport by a short scheduled flight from London and depart for Rome city. On arrival in Rome, be greeted by a local professional guide. The tour starts by visiting the Colosseum, symbol of Rome and once home to the gladiators. View the Roman Forums, where ancient civilisation developed. View Trevi Fountains, arguably the most beautiful fountains in all of Rome. (As coaches are restricted to enter many parts of Rome, much of the tour is conducted on foot). Visit to Colosseum maybe conducted on day three.
Meals : Dinner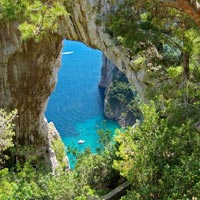 Depart for Capri, one of the most beautiful Islands in Italy. On arrival, board a speedboat for a short journey to Capri. This legendary island, surrounded by rose tinted rocks has incredibly beautiful caves of translucent blues and greens. The town, with its pretty piazza, mazes of streets, fashionable boutiques and elegant restaurants is a must see for any holiday goers. Later return back to Rome.
Meals : Breakfast & Dinner
Today morning drive to Rome to visit the Time Elevator. Time Elevator is a multi sensorial and dynamic cinema experience stimulating a travel into time, taking viewers through the History of Rome. Later visit the Vatican City, home to the Pope and the Roman Catholic Church to see the St. Peters Basilica. Depart in the afternoon to Florence.
Meals : Breakfast, Lunch & Dinner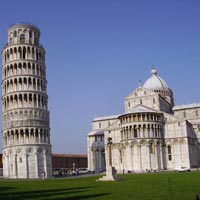 Depart for Pisa. On arrival, you will have time to marvel at fascinating landmarks like the breathtaking Duomo (cathedral), built almost 1,000 years ago and the cathedral's bell tower - better known as the Leaning Tower of Pisa. Enjoy some free time to buy souvenirs for friends and family. In the afternoon depart for Florence. On arrival, be greeted by your local professional guide. The tour of this renaissance city starts by viewing the impressive architecture of some of the finest historic buildings in Italy, such as the Duomo of Florence the largest brick dome ever created, along with photo stops at Basilica of Santa Croce, the final burial place of Michelangelo, statue of David replica, famous Ponte Vecchio Bridge on the Arno River and The Piazelle Michelangelo, for the most outstanding views of Florence. (As coaches are restricted to enter many parts of Florence, much of the tour is done on foot).
Meals : Breakfast, Lunch & Dinner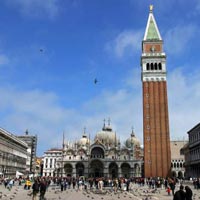 Depart for Venice; the most romantic city in Italy with its distinctive architecture and famous gondola rides. Begin with a boat ride to St Mark's Square, one of the most elegant squares in the world. See the famous Bridge of Sighs and the Basilica di San Marco. Visit the Murano Glass Showroom and purchase some beautiful Murano glass items. Finally enjoy a romantic gondola ride while enjoying the ambience of Venice.
Meals : Breakfast, Lunch & Dinner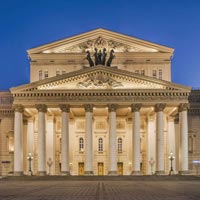 Depart for Milan, renowned as one of the design and fashion capitals of the world. Here enjoy some free time to explore the main square, home to Milan Cathedral also known Duomo Di Milano. View the Victor Emmanuel Gallery as well as the famous Scala Opera house. Drive to Lake Garda which is the largest lake in Italy; here enjoy free time to view spectacular scenery and to walk around the town. Later, depart for the airport for your return flight.
Meals : Breakfast
More Details about Rome, Pisa and Florence Tour
Hotel
Flights
Sightseeing
Transfers
Personal Expenses
Any other services which are not mentioned above.
1. When making a booking you will be accepting our terms & conditions, general information and pay a fixed amount on behalf of you and all members of your group to secure your services. You must be over the age of eighteen years old to make a booking with Liveinn Style. Any bookings made within 28 days of departure must be accompanied by 100% of the total tour cost to confirm your tour services
2. Once we have sent you a booking confirmation or invoice, we will only change the price of your holiday if there is a change or increase in any one or more of the following:
(a) Transportation costs (including flight supplements and the cost of fuel);
(b) Dues, taxes or fees chargeable ,such as landing taxes or embarkation or disembarkation fees at ports and airports; or
(c) The exchange rate applicable to the particular holiday package. (Our prices are fixed using the exchange rates available in the month of November 2015)
(d) In the event of a significant increase in any of the components that are included in your tour cost i.e.: hotels, entrances, flights, transportation & food.
3. If you or any member of your party wishes to cancel your holiday, you should notify us in writing. If you cancel the holiday, then we will charge the cancellation fees as set out in the table below. Liveinn Style shall remain within its rights to forfeit the non-refundable deposit amount paid to confirm the booking to recover the scale of cancellation charges set by our suppliers. Cancellation policy apply if
a) tour participant can not adhere to the tour payment schedule set out on the left,
b) in the event that visas for any countries are not granted or
c) In the event that any tour participant is unable to travel for any reason whatsoever, including medical grounds.
| | | |
| --- | --- | --- |
| Notice Given for Cancellation | Coach Tours | Flight Tours |
| More than 42 Days | 25% of total holiday cost | 40% of total holiday cost |
| 41-28 Days | 25% of total holiday cost | 50% of total holiday cost |
| 27-14 Days | 50% of total holiday cost | 75% of total holiday cost |
| 13-7 Days | 75% of total holiday cost | 90% of total holiday cost |
| 6 Days or less | 100% of total holiday cost | 100% of total holiday cost |
4. If you have a special need or a special request, it is important for you to contact us in writing or by telephone prior to making your booking. You must write to us giving us full details of your special requests or special needs and details of any disability that affects you.
5. Every effort is made to ensure that the details, description and prices contained in company literature are correct, based on inspections, and information passed to the Company by its suppliers. However changes do occur, sometimes at short notice and therefore the Company will advise you at the time of booking, or if after booking as soon as possible of any such changes to our published information. It is not always possible for the Company to control all elements of the holiday whereby advertised facilities can sometimes become unavailable at short notice due to inclement weather conditions, lack of demand, emergency repair works etc.
| | | |
| --- | --- | --- |
| No of pax | Age Limit | Price per pax (Rs) |
| Adult | Above 12 years | $ 1549 / Adult |