* Mentioned prices may vary depending upon date of travel, hotel availability, surge pricing and seasonal rush.
Paris and London Tour Overview
Disneyland® Paris with entrance
Eiffel Tower (Top floor) with entrance
River Seine Boat Cruise with entrance
Orientation Tour
Night Tour of Paris included in the priceExpenses of personal nature (Telephone + Laundry + Porterage bills).
Any other services which are not mentioned above.17-1030-12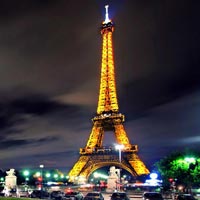 This morning cross the English Channel either by ferry or Eurotunnel. From Calais, begin the journey to the French capital, Paris. On arrival take a scenic boat cruise along the River Seine; entirely glass fitted with a terrace, these boats are flawlessly designed to discover and admire the rich architecture such as the Eiffel Tower, Musée d'Orsay, Notre Dame Cathedral as well as other landmarks, palaces and ornate bridges.
Meals : Dinner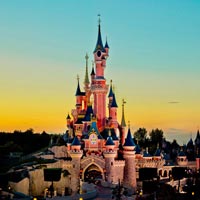 Depart for the world famous Disneyland® Paris. Here enjoy a fun and adventurous day out; choose between either Disneyland® Park; which explores five themed lands filled with Disney classic stories and fairytales or Walt Disney Studios® Park; the behind-the-scenes destination sensation allowing you to experience movie and cinema sets coming to life. Later, enjoy an Indian meal followed by a night tour of Paris, the city of lights. This panoramic tour will cover the impressive 'Eiffel Tower, the world famous Champs Elysees, the beautiful Arc de Triomphe and many other historic buildings.
Meals : Breakfast & Dinner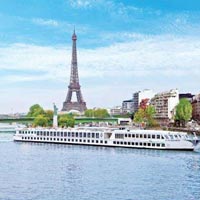 This morning depart for Paris to embark on a journey to the top floor of the Eiffel Tower for a breathtaking birds eye view of Paris. Followed by free time at the Avenue des Champs Élysees, the most prestigious avenue in Paris; with its cinemas, cafés, and luxury specialty shops (duration is time permitting). In the early afternoon, drive back to Calais for the channel crossing, then it is time to say farewell to the group before arriving at your drop off point.
Meals : Breakfast
1. When making a booking you will be accepting our terms & conditions, general information and pay a fixed amount on behalf of you and all members of your group to secure your services. You must be over the age of eighteen years old to make a booking with Liveinn Style. Any bookings made within 28 days of departure must be accompanied by 100% of the total tour cost to confirm your tour services
2. Once we have sent you a booking confirmation or invoice, we will only change the price of your holiday if there is a change or increase in any one or more of the following:
(a) Transportation costs (including flight supplements and the cost of fuel);
(b) Dues, taxes or fees chargeable ,such as landing taxes or embarkation or disembarkation fees at ports and airports; or
(c) The exchange rate applicable to the particular holiday package. (Our prices are fixed using the exchange rates available in the month of November 2015)
(d) In the event of a significant increase in any of the components that are included in your tour cost i.e.: hotels, entrances, flights, transportation & food.
3. If you or any member of your party wishes to cancel your holiday, you should notify us in writing. If you cancel the holiday, then we will charge the cancellation fees as set out in the table below. Liveinn Style shall remain within its rights to forfeit the non-refundable deposit amount paid to confirm the booking to recover the scale of cancellation charges set by our suppliers. Cancellation policy apply if
a) tour participant can not adhere to the tour payment schedule set out on the left,
b) in the event that visas for any countries are not granted or
c) In the event that any tour participant is unable to travel for any reason whatsoever, including medical grounds.
| | | |
| --- | --- | --- |
| Notice Given for Cancellation | Coach Tours | Flight Tours |
| More than 42 Days | 25% of total holiday cost | 40% of total holiday cost |
| 41-28 Days | 25% of total holiday cost | 50% of total holiday cost |
| 27-14 Days | 50% of total holiday cost | 75% of total holiday cost |
| 13-7 Days | 75% of total holiday cost | 90% of total holiday cost |
| 6 Days or less | 100% of total holiday cost | 100% of total holiday cost |
4. If you have a special need or a special request, it is important for you to contact us in writing or by telephone prior to making your booking. You must write to us giving us full details of your special requests or special needs and details of any disability that affects you.
5. Every effort is made to ensure that the details, description and prices contained in company literature are correct, based on inspections, and information passed to the Company by its suppliers. However changes do occur, sometimes at short notice and therefore the Company will advise you at the time of booking, or if after booking as soon as possible of any such changes to our published information. It is not always possible for the Company to control all elements of the holiday whereby advertised facilities can sometimes become unavailable at short notice due to inclement weather conditions, lack of demand, emergency repair works etc.