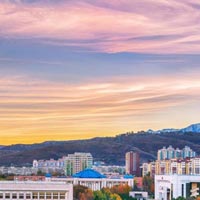 07.00 – 09.00 Breakfast at the Hotel.
10.00 – 14.00 Meeting at the Hotel lobby with tour guide. Almaty city tour.
You will know more about history and development of the southern capital of Kazakhstan.
Sightseeing tour starts in one of the oldest Almaty park.
Park of 28 Panfilov Guardsmen.The official name from May the 5th, 1942, in memory of the heroes of Panfilov's division and heroes Almatese, who stopped the offensive of enemy's tanks in Moscow during the World War II.
The Ascension CathedralIt was built by an architect AndreyZenkov, famous as a founder of earthquake-proof construction.
Museum of national musical instruments.The collection presents over 1000 objects including rare exhibits dating back to the 17th century. There are in total 60 types of national instruments: kobyz, dombras, syldyrmak (tambourine like national instrument) as well other nations' instruments.
Green bazaar.This is the place where it is impossible to refrain from shopping. It is the great chance to experience an atmosphere of the real Central Asian market, its colors, smells and crowds. There you can obtain famous Asian sweets, dry fruits and different type of nuts but don't forget to bargain...
14.00 – 15.00 Lunch at Indian restaurant
15.00 – 18.00 Tour will continue in Koktobe Hillor Green Hill (it's the kazakh translation for Koktobe).Kok- Tobe hill where the tallest TV tower in the world is located (if to count from the sea level). This tour provides you the best opportunity to see the beautiful mountain surroundings of Almaty city and to seeAlmaty city a bird's eye view. Enjoy with crazy rides – Fast Coater and Ferris wheel.
19.00 – 21.00 Dinner at Indian restaurant. Transfer to the Hotel. Overnight.