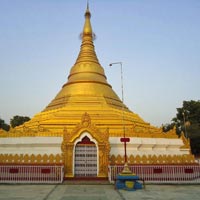 This morning you will go for an excursion trip to Sarangkot. Sarangkot is the most popular tourist destination from where the tourist can enjoy the great view of the Pokhara Valley and the magnificent view of the mountains. Sarangkot is only 13 kms from Lake Side, Pokhara. Sarangkot is the highest view point for a sunrise and it is just 1592m high. Sarangkotis cooler than Pokhara. Sarangkot can be reached easily by 45 to 60 minutes by a car ride to the top from Pokhara. Many tourists come to Sarangkot for sunrise view and go back.
Paragliding can also be done from Sarangkot. From Sarangkot, on the northern direction we can see Dhaulagiri in the far west. Annapurna range is visible when the weather is clear on the same side. On the southern direction the village overlooks the city of Pokhara and its lake on the north-western outskirts of the city.
Drive to Lumbini. Lumbini is 270 kms from Pokhara& a 7 – 8 hrs of nonstop drive. Lumbini is located in the south-central Terai of Nepal, situated in the foothills of the Himalayas. For millions of Buddhists the world over, it evokes a kind of holy sentiment akin to the significance of Jerusalem to Christians and Mecca to Muslims. Lumbini is the place where Lord Buddha - the apostle of peace, and the Light of Asia - was born in 623 B.C.
This afternoon you will tour the Lumbini Garden which consists of the birth place of Lumbini, various Bodh Vihars built by different countries such as Japan, Myanmar, Indonesia, USA to establish the Buddhist religion in the Garden. You will tour by a rickshaw for 3 hrs. Overnight at hotel.