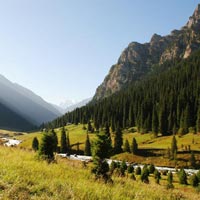 07.00-09.00Breakfast at the Hotel. Check out.
09.00-14.00 Drive to Issykkul Lake (225 km). Visit to Burana Minaret preserved minaret of the ancient city Balasagyn (xii-xiii centuries.)Continue driving through fantastic landscapes of Boom Gorge to reach Lake IssykKul (The World's second biggest mountain lake).
Packed Indian Lunch will be provided (veg/non veg Biryani with Raita)
14.00-16.00 Check –in Hotel *. Free time to relax.
16.00-18.00 Trip on the boat on the exciting waters of Issyk-Kul Lak This ethno complex on the northern shore of Lake Issyk-Kul in Cholpon-Ata. The complex is named after one of the most famous in the world of Kyrgyz - ChyngyzTorekulovichAitmatov. RuhOrdo is a cultural center which promote the unity of God in all its forms and the equality of all living things in front of the creator.
19.00-21.00Dinner at Local café. (Russian / Oriental / European cuisines). Overnight.