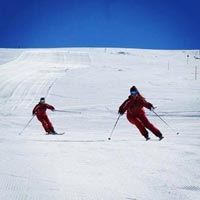 After breakfast in the hotel, we will visit the Parnassus ski centre. One of the most beautiful mountains in Greece is Parnassos, which is very well known for its beauty and the Parnassos Ski Resort located on sites Kelaria and Fterolaka. The altitude of the resort starts from 1600m. Going up to 2250m. Having a vertical drop of 650 meters. It is considered the biggest and most well functioning ski resort in Greece, started operating in 1976 at Fterolaka site and in 1981 also at Kelaria. The resort has 19 slopes, 7 ski routes, 10 paths and 3 mini slopes for amateurs with total length of 36 kilometers for all kind of ski levels. There is also a Snowpark at Kelaria site and an excellent sale, where you may enjoy a hot coffee or chocolate, if you are not a ski fun. (Ski pass Fee is not included).
Mount Parnassos, with an altitude of 2,260 metres, ranks among the highest mountains in Greece. Its spectacular geomorphology and rich biodiversity place it among the most important mountain environments in our country. Here you will find the biggest downhill ski resort in Greece. The mountain's high altitude offers ski lovers long-lasting snow-covered peaks, and the mountain is a very popular spot for visitors as it is located near Athens.
The ski resort consists of two locations, Kellária and Fterólakka, which are connected with lifts and runs. A third one, Yerodóvrahos, is a small separate resort linked with Kellária by ski trails. The ski resort boasts 23 ski runs (3 difficult, 8 intermediate, 8 easy & 4 very easy) with a total length of 27 km, and 13 ski and chair lifts.
Here are some of the ski runs you could chose to enter and cross, depending on your chosen level of difficulty:
Downhill ski runs at Kellária:
(a) Aphrodite (no 1): A blue, 1,500m long ski trail that leads to the chalet.
(b) Odysseus (no 8): A challenging 800m red run, maybe black at some points. The most difficult piste of the area that experienced skiers really love to cross.
(c) Hermes (no 11): A definitely blue run 700m in length.
(d) Run (no 16): Starting from the Zeus lift at Fterólakka, this run ends at the starting point of the chair lift Hermes at Kellária. It is actually a blue snow trail 1,400m in length.
(e) The runs Telemachus (no 3) and Pericles (no 15) are ideal for an early-in-the-morning warm-up.
(f) If you are just interested in taking up skiing lessons, experienced ski instructors waiting to show you the ropes at the two baby runs (120m & 50m in length) of the ski resort.
Meals : Breakfast